Our two "Signature Recipes" are nationally recognized and approved! These recipes are Greek in origin, so they taste like real yogurt and have less sugar and higher protein.
Original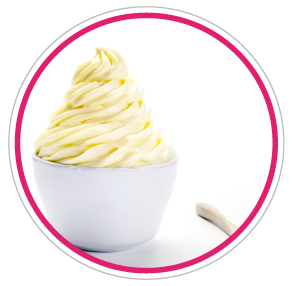 Known to revitalize the senses. This flavor is creamy, tangy, but with a sweet aftertaste!
*Recommended to be topped with fresh fruit–yummy!
---

Green Tea
Sincerely Yogurt®'s Original flavor combined with Green Tea Matcha. The word "Matcha" means very fine ground powder derived from the green tea plant. Green tea has many known healthy attributes, including:
Supports immune system and healthy digestion
Fights the signs of normal aging
Promotes healthy function of brain and liver
Improves the health of gums–that's something to make you smile!