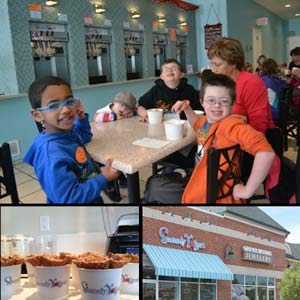 At Sincerely Yogurt®, we provide a healthy alternative to frozen desserts. Holding ourselves to the highest standards of taste and quality, we seek to be a source of educating the public on the health added benefits of our products, and strive to be a driving force of the well-being of the people and communities in which we serve.
History
Sincerely Yogurt® opened its first location in 2009, based on one man's passion for health, giving back, and serving the community.
From the beginning, the company's mission has been to go beyond the traditional self-serve frozen yogurt shop by providing a healthy alternative to frozen desserts. At Sincerely Yogurt we offer Nonfat and low-fat frozen yogurt made with no artificial flavors or colors. Additionally, we have incorporated a line of healthy smoothies, many capable of being a meal replacement.
With a growing reputation for ultra-healthy treats and a dedication to giving back, Sincerely Yogurt® has been meeting the demand of communities, looking to make a positive change to their well-being.
Sincerely Yogurt became part of Ablak Holdings which has 30 years experience in managing franchises in food businesses with sister brands Vocelli Pizza, V3Flatbread Pizza, Rock N Joe, and Zing Basket.
Sincerely Yogurt is founded on solid values such as: Health, Family, Friendship, Teamwork, Integrity, Transparency and Accountability. At Sincerely Yogurt we operate with integrity and moral ethics. Our employees, partners, consumers, franchisees and investors are honored, respected and valued.
Sincerely Yogurt is a happy place, where we celebrate family gatherings and friendship.